How Diet Websites Would Be Better Off Without Them.
(And Other Surprising Findings From Usability Testing)
Subscribe to Newsletter
Get research updates, news and helpful tips.
We didn't set out to investigate the effectiveness of celebrity endorsements of weight loss companies. What we wanted to know was to what extent do weight-loss websites help users get started with their perennial New Years resolution to lose weight.
But early on the celebrity aspect presented itself to us through user comments. In head-to-head competition between six different weight loss companies, four companies featured celebrities on the homepage. And users definitely had something to say about it.
In addition to the usability problems we usually see - lack of clear calls-to-action, poor navigation, and failure to meet minimum expectations for content - participants felt that, with one exception, celebrity "spokeslosers" had no influence on their decision to choose a weight loss program. Why? Because participants couldn't relate to celebrities, who they believed hadn't actually used the program, were merely "chubby" before using the program, and had other resources at their disposal to help them in their weight loss. Kirstie Alley was the only celebrity that participants said had any credibility because she had been truly obese and because of her very public struggle with her weight.
Methodology Overview
Specifically, the objectives of the interviews were:
To determine which weight loss program website creates the best overall experience by assessing the general usability of each company's website.
To identify design inconsistencies and usability problem areas within the user interface and content areas.
To determine to the extent to which websites balance organizational objectives with user wants, needs and motivations.
To determine if a website's user experience had any influence on which weight loss program participants would join.
Due to the large number of weight loss programs available, we used a representative sample of six programs. The programs we selected represent a broad cross section of weight loss philosophy, name recognition, and website design and functionality. The weight loss websites selected for this usability study were:
Testing was conducted December 16-19, using 15 participants who stated one of their New Year's resolutions was to lose weight. Participants were recruited from throughout the U.S. with a mixture of demographic characteristics (8 female / 7 male). Each interview was structured as a head-to-head competition experiment, i.e. each participant completed the same set of tasks on two different program websites. To ensure fair coverage and to determine a "winner", the websites and their order varied from participant to participant.
| Participant | Contest |
| --- | --- |
| 1 | Retrofit vs. eDiets |
| 2 | Jenny Craig vs. Organic Liaison |
| 3 | Retrofit vs. Organic Liaison |
| 4 | Organic Liaison vs. eDiets |
| 5 | Weight Watchers vs. eDiets |
| 6 | Jenny Craig vs. eDiets |
| 7 | Jenny Craig vs. Retrofit |
| 8 | Nutrisystem vs. eDiets |
| 9 | Nutrisystem vs. Organic Liaison |
| 10 | Nutrisystem vs. Jenny Craig |
| 11 | Weight Watchers vs. Retrofit |
| 12 | Weight Watchers vs. Jenny Craig |
| 13 | Nutrisystem vs. Retrofit |
| 14 | Weight Watchers vs. Nutrisystem |
| 15 | Weight Watchers vs. Organic Liaison |
The tasks were identical for all participants and websites.
Task 1: Find information about the aspects you think are most important to selecting a program
Task 2: Sign up for the program
After completing both rounds, participants were asked which program they were most likely to join and which website had the better overall experience.
Results Summary
The results of our research indicate that participants were heavily influenced by the site's user experience when choosing a weight loss plan. In most cases, the weight loss program participants chose to join was also the program they judged to have the best website user experience. Only three of the 15 participants chose to join a plan that they didn't feel offered the best user experience for reasons of diet philosophy, price, and prior success within their social group.
Nutrisystem was found to have the best overall user experience, while Weight Watchers had the worst. There was no clear winner about which plan participants were most likely to join.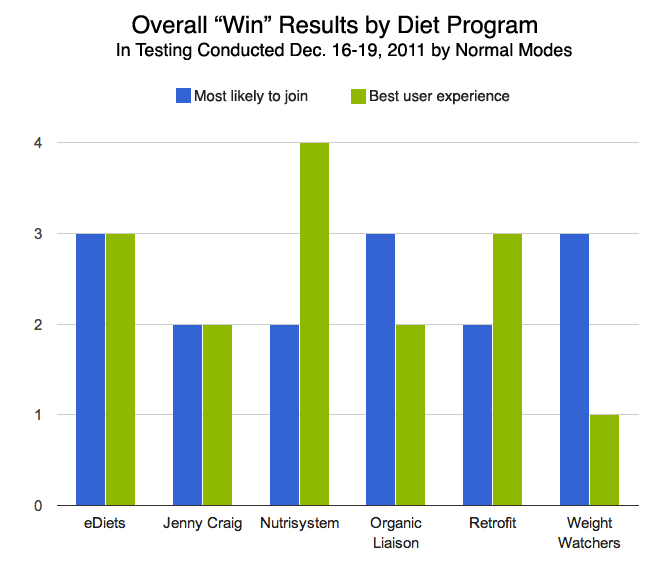 Additional global findings, detailed findings by company, video clips from testing and prioritized, actionable recommendations to improve the user experience are available. Please contact Joseph Sayegh at 832.426.4882 for more information.